Locomotive being in Georgian Cup Semi-final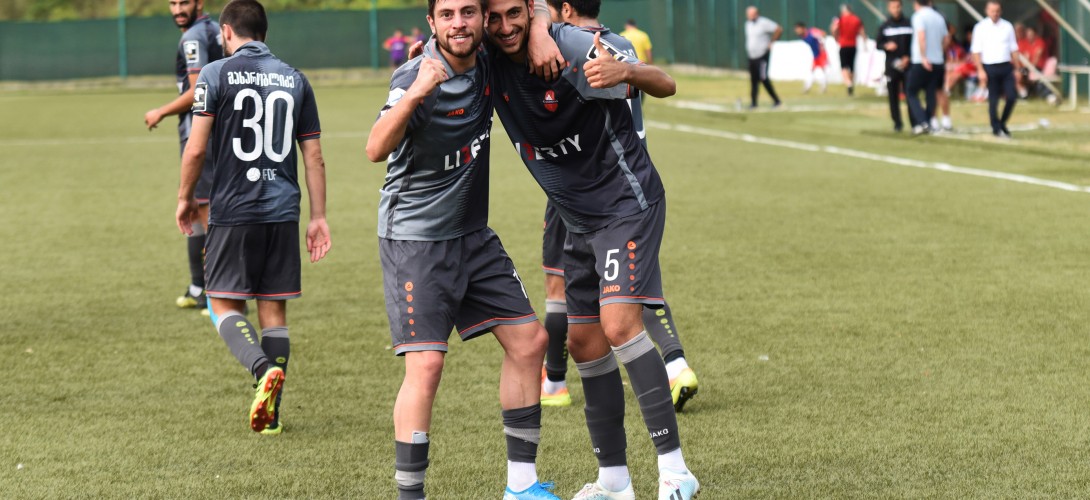 24/09/2019
Locomotive being in Georgian Cup Semi-final
"Locomotive" has earned a ticket to the semi-final of David Kipiani Georgian Cup in a hard fought battle against the locals of Martvili, "Merani".
The match took place at Murtaz Khurtsilava stadium and the artificial turf had its effects on the performance of the Tbilisians. In spite of that, Loco managed to achieve playing priority from the very beginning. In the first part of the first half, the majority of our strikes were carried out on the wing of Ubilava-Kirkitadze. Therefore, the wingers of the Tbilsians tended to be the most active.
Korghalidze's team succeeded to open the score at the 23rd minute. A corner kick by Beka Dartsmelia was followed by an impressive header by Rezi Injgia in the penalty area. Despite the great pressure on the rivals, "Locomotive" was not able to increase the score any further in the first half.
In the second half, the game was almost balanced. The hosts had no chance to retreat, so the whole team had attempts to strike. At the 72nd minute Locomotive survived a scoring: a footballer of "Merani" missed the target kicking from a favorable position.
And by the time everyone thought that was the final result and the compensated time was almost over, the referee Kvirikashvili signaled a hand play by Shekiladze at the penalty line of the Tbilisians and thus appointed an uncertain penalty. Giorgi Bukhaidze kicked the ball and the Martvilian supporters broke into joy – 1:1 and the extra time was appointed.
Within the extra time, the footballers of "Locomotive" came to be more active than the hosts. However, both of the teams acted very carefully and neither of them attacked with all the force. The final result of the match was fixed at the 110 minute by a corner kick, when Loco's
well-grown defender- Aleksandre Andronikashvili leaped up high and netted against the Cameroonian keeper of Martvili. 2:1 and Levan Korghalidze's team moves into the semi-final.
Unfortunately, one of the leaders of "Locomotive's" defense, Aleksandre Gureshidze, is going to miss the Cup semi-final due to the yellow cards he has received.
"Merani" Martvili 1:2 Locomotive
Locomotive: Buliskeria, Gureshidze, Chanturia, Andronikashvili, Ubilava ©, Shonia, Dartsmelia, D. Kirkitadze (Gvalia 88), Gorozia (Makharoblidze 54), Injgia (Shekiladze 83), Sikharulidze (Jiqia 117)
Scorings: Injgia (23), Andronikashvili (110)
Yellow Card: Andronikashvili, Buliskeria, Gureshidze, Injgia
more news