Chikhura hinders Locomotive in Sachkhere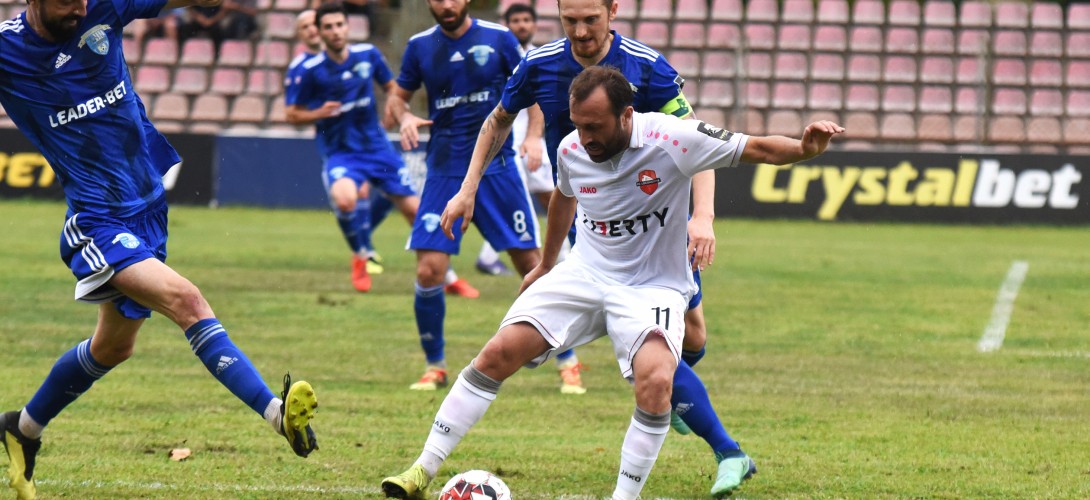 24/08/2019
Chikhura hinders Locomotive in Sachkhere
In the 25th round of Erovnuli Liga, "Locomotive" lost quite a dramatic battle against "Chikhura" at Ivantsminda Stadium. The spectators witnessed everything in the match - fortunate and unfortunate penalty kicks, appointed and disallowed, doubtful penalties, yellow cards, and a little interference with an opponent, for which the keeper of Sachkhere - Dino Hamzich was responsible. Eventually, the Tbilisians were defeated 2:3 and missed a wonderful chance - to firmly settle into the 4th place of the league table.


In the 1st half, Levan Korghalidze's team showed a lively and active game to the rivals. There were some dangerous kicks. At the 30th minute, due to the foul on Dato Kirkitadze, the referee signaled a penalty kick in the door of Sachkherians, which was carried out by Temur Shonia, however, the shot was repelled by Dino Hamzich. Just in a minute after that, a 11-meter shot was now appointed in Tbilisians' door. The penalty kick was accurately performed by Giorgi Korifadze and thus promoted his team.

Loco succeeded to restore the balance at the 37th minute. After the pass by Samurkasovi, Bidzina Makharoblidze hit a header towards the door of Hamzich; On the line of the door, Irakli Sikharulidze tackled the ball and thus equalized the score. The teams went on break with equal number of scorings.

In the second half, everything happened in a quick and dramatic manner.At the 50th minute, the Sachkherians advanced themselves thanks to Mishiko Sardalishvili. Loco had an attempt to enhance the pressure on the rivals, however, in the final phase, the Tbilisians lacked accuracy.

At the 73rd minute, Dino Hamzich captured the ball outside of the penalty area, consequently, Papuna Macharadze granted a penalty kick without any hesitation and showed a yellow card to the goal keeper, however, a little interference had a place in this episode, the one we mentioned above. Hamzich got fierced and attacked the guest footballers: he slapped Samurkasovi, threw fists towards the others as well, although, the referee did not react.
Like the continuation of the missed penalty episode, this one was also followed by a netting in Sherozia's door. Kirkitadze's shot hit the defensive wall; The Tbilisians were appealing against using hands, but the referee did not terminate the match and "Chikhura" ran on a counter-attack. After Dekanoidze's pass, Loco's door was raided for the 3rd times by Irakli Leqvtadze.
Within the time left, Levan Korghalidze's team managed to score just once. Temur Shonia scored a penalty within the compensated time.
Chikhura 3:2 Locomotive
Locomotive: Sherozia, Gureshidze, Chanturia, Komakhidze, Ubilava (C), Dzebniauri (Gvalia 63), Shonia, Samurkasovi (Injgia 77), Makharoblidze, D. Kirkitadze (Shekiladze 81)
Scorings: Sikharulidze (37), Shonia (90+3)

Yellow Card: Shonia
more news