Locomotive let Sioni take a point home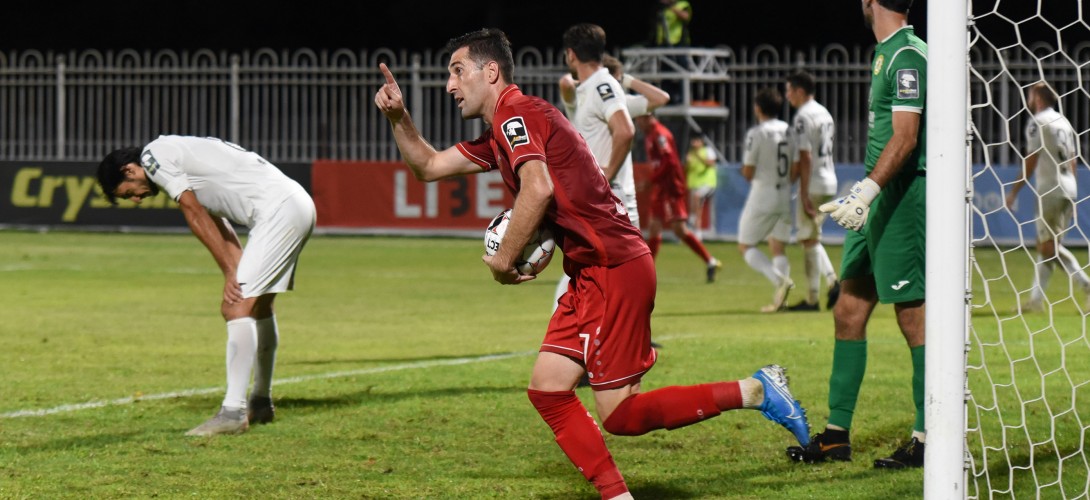 30/08/2019
Locomotive let Sioni take a point home
"Locomotive" failed to succeed again. This time, Levan Korghalidze's team was not able to defeat "Sioni" Bolnisi at their own arena. Despite the fact that the Tbilisians created a number of goal scoring moments, even enough for two matches, they had difficulty in actually taking advantage of them.


From the very beginning of the match, "Locomotive" possessed the ball, however, the first dangerous shot towards a door was carried out by the Bolnisians. After that, Bidzina Makharoblidze examined the readiness of the keeper of the Bolnisians, although, he missed the target. Then, the players of Locomotive ventured to take the rival's door by storm. First, a shot from the corner was turned into a header by Makharoblidze, which was eventualy repelled by Isiani on the door line. This was followed by the second corner kick, which was taken by Makharoblidze once again, but, this time, the keeper of "Sioni" took over the ball.
The strikes of the Tbilisians tended to become more and more fierce. After some satisfying counter-attacks, Kirkitadze targeted at Sikharulidze being in the penalty area; Loko's forward threw the ball over the door.

Sikharulidze had two great moments in the second half as well, however, he could not manage to benefit from any of them. This was followed by the dangerous and inaccurate shots by Makharoblidze and Dzebniauri, Nika Chanturia's absolutely striking miss of the target from the close distance, and this was the time, when the unwritten law of football started to function. After so many unrealized moments, the Bolnisians succeeded to open the score while being on the rival's territory for the first time during the match.
After being netted, Loco became eager to restore the balance. Levan Korghalidze's team did it at the 86th minute. A penalty kick appointed due to the foul with Davit Jiqia, was performed by Samurkasovi. Temur Shonia took an advantage of the mess in the penalty area and thus equalized the score. "Locomotive" tried their best to win the match within the minutes added, but the time did not turn out to be enough for the Tbilisian club.
Locomotive 1:1 Sioni
Locomotive: Buliskeria, Gureshidze, Chanturia, Ubilava (c), Komakhidze, Dzebniauri, Shonia, Samurkasovi, Kirkitadze (Injgia 80), Makharoblidze (Shekiladze 64), Sikharulidze (Jikia 77)
Scoring: Shonia (86)
more news