Locomotive earns 3 points in Tskaltubo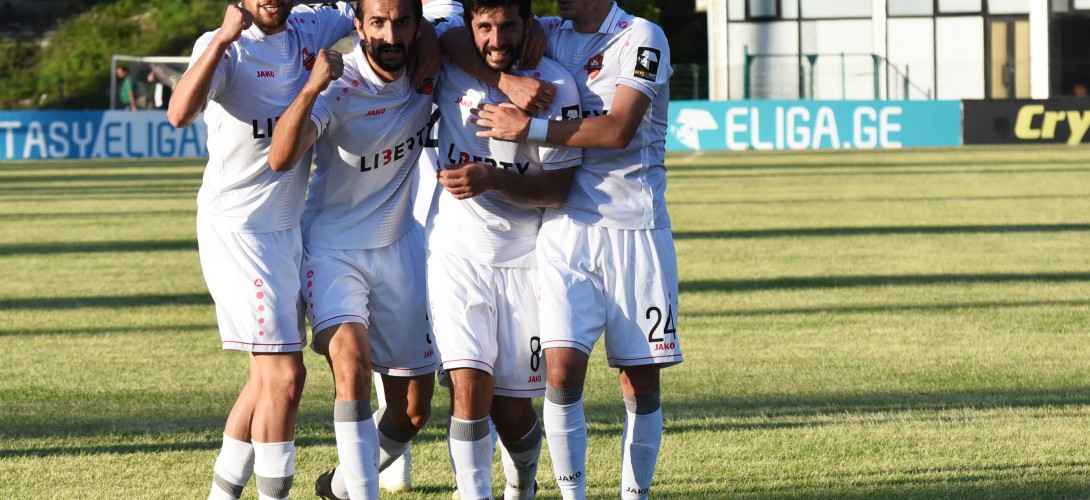 02/07/2019
Locomotive earns 3 points in Tskaltubo
In the current season of Erovnuli Liga, "Locomotive" Tbilisi held their 9th unbeaten match against "Torpedo" Kutaisi in Tskaltubo.


The 21st round turned out to be successful again for Levan Korghalidze's team. The players of Tbilisi reduced the point difference with Kutaisi to two. The absence of some players due to their trauma was compensated by the young footballers. Out of 7 spare players of Tbilisi, 4 were from the U19 squad of "Locomotive". In case of Giorgi Lomtadze, that was the very first time for him being on the list of the main composition.
Within the initial 30 minutes of the first half, there weren't any dangerous moments. At the 35th minute, "Locomotive" survived being netted as the ball hit the post. The players of Tbilisi lost the ball in the center, which was followed by the rapid counter-attack on the side of the hosts. The shot by Budu Zivzivadze hit the right post first, then – the left, and afterwards, the ball, bouncing back, was seized by Demetre Buliskeria.
Loco responded to the dangerous moment by creating threat themselves: The pass from Ubilava's wing was received by Gorozia, kicking it before falling, however, the ball missed the target with a minimum distance.
Levan Korghalidze was forced to make a substitution at the end of the first half. Davit Jiqia hurt his knee after a foul and thus had to be substituted. Instead of him, Shota Shekiladze entered the field.
In the first half, the overall picture of the game was radically changed. The guests tended to control the ball and with some positional strikes they were trying to create dangerous moments at the door of Kutaisi. However, Buliskeria had to repel a strong, distant shot by Zivzivadze once again.
The first goal was scored at the 71st minute of the match. Lasha Gvalia made the ball catch up with Sikharulidze, who had broken into the penalty area; Loco's number 20 kicked from an acute angle on falling; Kvilitaia repelled the ball with his foot, which resulted into the ball being transferred to Gorozia, in the penalty area. With just a touch, he found Gvalia, who eventually kicked the ball strongly from a short distance – 1:0


8 minutes after the goal, the author of the goal-scoring pass was substituted by Luka Jafaridze. For the young footballer that was a debut match in Erovnuli Liga. Jafaridze was actively engaged in the match and he even had a real moment to score.
Locomotive ended the game at the 86th minute. The keeper of Kutaisi gave the ball to Irakli Sikharulidze instead of giving it to his defenders, thus Qvilitaia, left without a door, was netted by the top scorer from a long distance, which was his 10th scoring in the current season.
Thus, "Locomotive" goes onto the summer break with 9 unbeaten matches. Starting from August, the players of Tbilisi will be fighting for their place among the four.


Torpedo 0:2 Locomotive
Locomotive: Buliskeria, Gureshidze, Chanturia, Komakhidze, Ubilava ©, Shonia, Dzebniauri, Jiqia (Shekiladze 45), Gvalia (Andronikashvili 89), Gorozia (Jafaridze 79), Sikharulidze
Scorings: Gvalia (71), Sikharulidze (86)
Head Coach – Levan Korghalidze
more news