Second Round – 3 More Points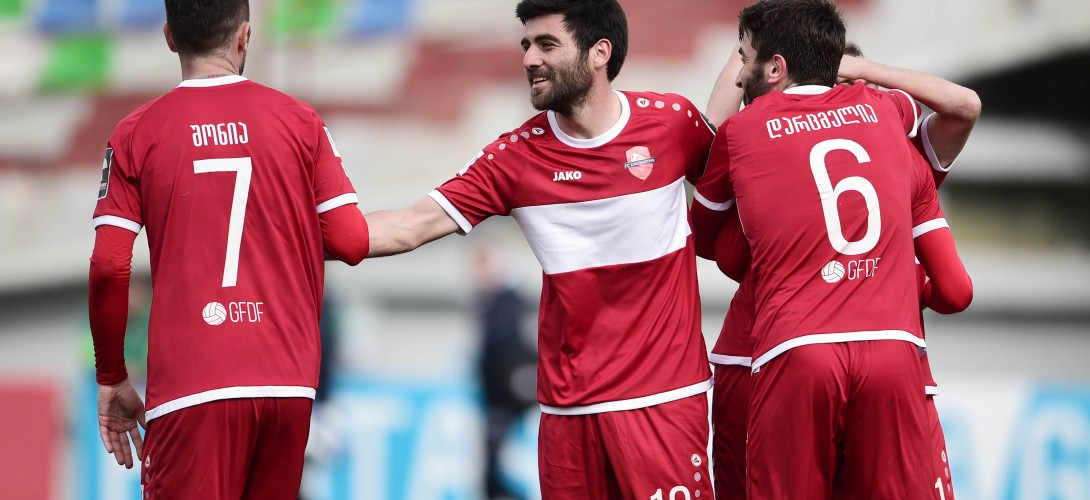 07/03/2020
Second Round – 3 More Points
In the second round of Erovnuli Liga, "Locomotive" competed with "Chikhura" Sachkhere, defeated the rival 3:1 and gained 3 more points.
The match started with a little advantage for the Sachkherians and the ball was mainly controlled by the nominal hosts of the match. They were also the first ones kicking towards the door.


"Locomotive" managed, more or less, to put themselves in order after 15 minutes and were granted their first corner kick as well. It ultimately ended with a dangerous moment, when Nika Chanturia came to be the one hitting the door.

After that, a penalty shot was performed by Dartsmelia. Loco's "number 6" passed the ball into "Hamzich's" penalty area; Sikharulidze's header hit the crossbar.


At the 30th minute, "Locomotive" was scored a goal. During the clash between Dato Kirkitadze and Kakha Kakhabrishvili, the referee found the rules violated and appointed a penalty kick in Sherozia's door, which was made into a goal by Giorgi Koripadze.


Loco succeeded to equalize the score 6 minutes after being netted. A quick strike was well proceeded by Davit Ubilava within the rival's penalty area, where Sikharulidze, being unsupervised, had no difficulty scoring a strong header. The half ended with a draw – 1:1.


In the second half, "Locomotive" came back to the field revived and motivated. From the very beginning, Levan Korghalidze's footballers gained the superiority. Shota Shekiladze had a brilliant chance, however, Loco's young striker was not able to make a decisive shot.

At the 53rd minute, the best scorer of the Tbilisians promoted Loco. A penalty kick generated by Sikharulidze was perfomed by himself, thus performing double in two consecutive matches.

At the end of the match, at the 74th minute, Hamzich's door was raided once again. However, this time, the defender of the Sachkherians – Goderdzi Machaidze "helped" the Tbilisians and broke the ball into his own door after Rezi Injgia's active gaming and acute passing.

"Locomotive" has gained victory in two successive matches, with the same scores. Levan Korghalidze's team retains a leading position. As for Irakli Sikharulidze, he takes the first place among the top scorers.
Chikhura 1:3 Locomotive

Locomotive: Sherozia, Kapanadze, Gureshidze, Chanturia, Ubilava ©, Dartsmelia, Shonia, Samurkasovi (Dzebniauri 66), D. Kirkitadze (Jinjolava 86), Shekiladze (Injgia 73), Sikharulidze

Scorings: Sikharulidze (36, 53 pen.), Machaidze (74 own goal)
Head Coach – Levan Korghalidze
more news