Soso Pruidze's Debut Match and Loco's First Draw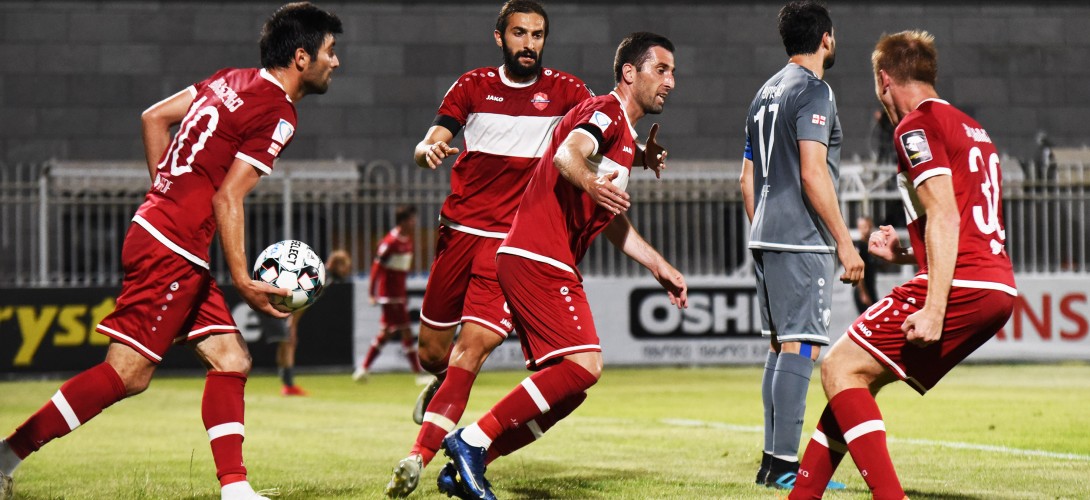 26/06/2020
Soso Pruidze's Debut Match and Loco's First Draw
After the involuntary timeout due to the coronavirus pandemic, "Locomotive" have had their first match in Erovnuli Liga today and played the first draw in the current championship. "Merani" Tbilisi turned out to be a hard nut to crack for the current champion of the league table.
"Locomotive" took an aggressive start in the match. Soso Fruidze's choice of attacking style in the debut match was instantly recognizable. However, the initial 20 minutes went off in a way that neither of the opposing sides had aimed towards the doors.


At the 23rd minute, Pruidze's footballers had a brilliant chance to open the score. Beqa Dartsmelia's penalty kick seemed to be successful after being backed up by Shonia with a header, however, Revaz Tevdoradze managed to repel quite a dangerous shot.
At the 43rd minute, another dangerous shot from the wing by Sandro Kobakhidze was taken by Dato Kirkitadze at the distant post, he tried to score a header, but missed the target.

"Merani" started the second half with strikes and "Locomotive" came to be saved by Luka Sherozia at the 50th minute. He repelled a very dangerous header off the corner shot from close range. In 3 minutes, Giorgi Datunaishvili's shot was blocked by a crossbar of Loco's door.

However, in this 10-minute period, Pruidze's team were not able to survive a goal to be scored against. After the uncoordinated game between the goalkeeper and the defenders, Iago Deisadze scored the goal in Sherozia's door. 0: 1 and at the 59th minutes "Locomotive" find themselves in the role of a runner-up.

Locomotive succeeded to restore a balance at the 76th minute. Samurkasovi and Dartsmelia played from the corner. Loco's number 8 made a wonderful pass in the opponent's penalty area and aimed the ball right above the head of Shonia, who was left unattended. After kicking from close range, Tevdoradze was left without a chance – 1:1.

At the 84th minute, a long expected substitution was finally carried out in the composition of "Locomotive". Mamia Gavashelishvili showed up on the field after 1 year pause.

In the final minutes, Loco gave another try to win, however, the footballers had neither time nor strength left for it. Not only that, they survived not to get punished again on a counter attack. Thus, the first draw in the current season and ahead – a busy calendar. This is just a beginning.
Locomotive 1:1 Merani Tb (0:0)
Locomotive: Sherozia, Gureshidze, Chanturia, Gabadze, Ubilava ©, Dartsmelia, Shonia, Samurkasovi (Injgia 76), D. Kirkitadze (T. Kirkitadze 77), Kobakhidze (Gavashelishvili 84), Sikharulidze
Scoring: Shonia (76)

Head Coach – Soso Pruidze

more news