Tie score without a goal with Saburtalo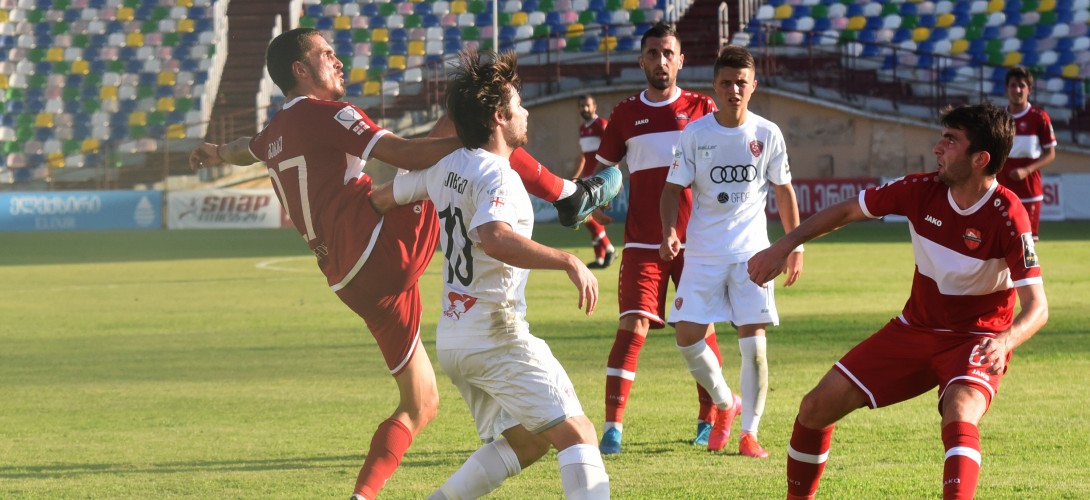 18/07/2020
Tie score without a goal with Saburtalo
In the 6th round match of the Erovnuli League, Saburtalo hosted Locomotive at Mikheil Meskhi Stadium. As the head coach, Giorgi Chiabrishvili faced his former team for the first time. There was a change in the Locomotive center back. In the absence of Nika Chanturia, Sandro Gureshidze was paired with Alexander Andronikashvili. Chanturia got injured during training and will have to rest for a while.
Locomotive players hit the goal for the first time. At the 10th minute, Vato Arveladze, who was in the penalty area, knocked the ball nearly fallen down and the ball went to Lazare Kupatadze. Neither of the team hit the ball as the first part of the half went to the end.
At the 27th minute, Tornike Kirkitadze overtook the opponent's defender in speed and kicked the goal vigorously in the penalty area, however, the ball hit the goalkeeper of Saburtalo directly. Nothing more interesting happened in the first half. Due to the high temperature, the game was running at a low pace and the teams went without a goal for break.
Giorgi Chiabrishvili started making changes from the 56th minute and let Mamia Gavashelishvili on the field. In the previous match, Gavashelishvili, met the head coach's expectations, and managed to score a goal. There was a controversial episode at the 78th minute, when Mamardashvili repelled the ball after a free kick by the hosts. Locomotive's door, left without a goalkeeper was protected by the defensive guards. Saburtalo players demanded to score a goal, however, the referee decided otherwise.
At the 89th minute, Locomotive remained in the minority on the field. A second yellow card was shown to Gureshidze for rudeness and he left the field. Giorgi Kokhreidze, who was injured in this episode, could not continue the game either.
Finally, after 0:0 and 6 rounds, Locomotive gains 8 points.
Saburtalo 0: 0 Locomotive (0: 0)
Locomotive: Mamardashvili, Gureshidze, Andronikashvili, Gabadze, Ubilava (C), Dartsmelia, Shonia, Samurkasov (Shekiladze 65), T. Kirkitadze (Dzebniauri 79), Arveladze (Gavashelishvili 56), Sikharulidze
Yellow card: T. Kirkitadze, Gureshidze, Dzebniauri
Red card: Gureshidze
Head coach - Giorgi Chiabrishvili
more news