Vato Arveladze's victorious goal for Locomotive in Batumi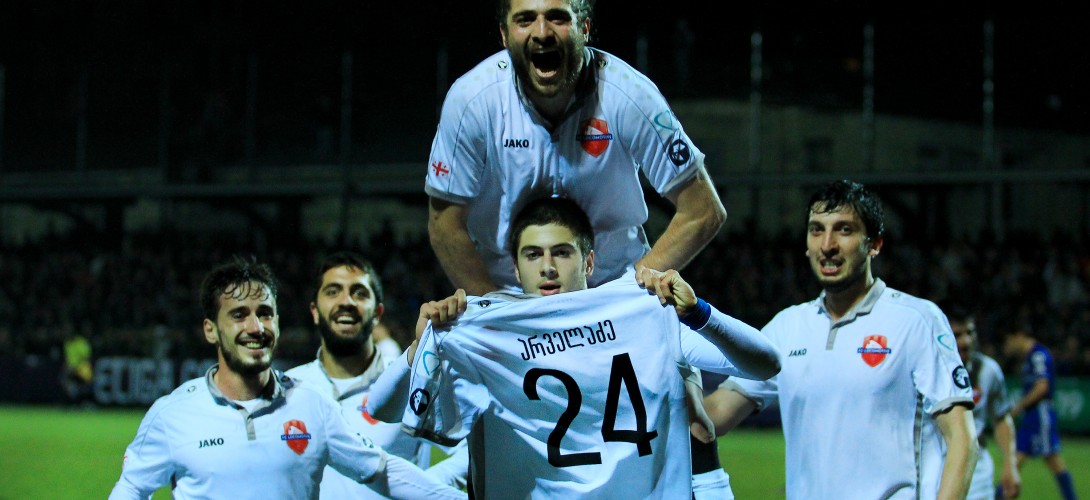 05/05/2017
Vato Arveladze's victorious goal for Locomotive in Batumi
In the 10th round of Erovnuli Liga, Locomotive Tbilisi beat Dinamo Batumi. Giorgi Devdariani's team gained victory in Batumi, at Arena Rugby Stadium. Locomotive defeated Dinamo 2:1 and has gathered 21 points.

Before the beginning of the match, the best footballer of the first circle in Erovnuli Liga, Irakli Sikharulidze, was given a special prize by a vice-president of Georgian Football Federation, Aleqsandre Iashvili.

Several thousand spectators witnessed a very interesting and tensed match. The host team opened the score on 14th minute. A captain of Dinamo, Teimuraz Shonia, was crashed down by Davit Samurkasovi in penalty area and the referee awarded a penalty kick. Vako Tevdoradze scored a goal.

On 35th minute Giorgi Devdariani substituted Samurkasovi with Mamia Gavashelishvili. On 56th minute, a bombardier of Erovnuli Liga, Irakli Sikharulidze equalized the score. Locomotive's number 7 has scored the 11th goal in the current season.

After a goal, head coach made two more substitutions. On 61th minute, Giorgi Kiknadze was substituted by Vato Arveladze. On 81st minute Rati Ardazishvili substituted Gega Diasamidze.

On 75th minute, the host team had two goal-scoring chances, although Revaz Tevdoradze repelled the hardest balls and saved Locomotive.

Ardazishvili and Arveladze's combination was followed by a winning goal. On 88th minute, Vato, out of the penalty area, with his left foot, netted the goalkeeper in the distant low corner, and, as a result, fixed the final score. It must be pointed out that Arveladze scored his first goal in Erovnuli Liga.


Locomotive: Tevdoradze, Khidesheli, Rekhviashvili, Tomashvili, Komakhidze, Ubilava, Qavtaradze, Samurkasovi (Gavashelishvili 35), Diasamidze (Ardazishvili 81), Kiknadze (Arveladze 61), Sikharulidze
Head coach: Giorgi Devdariani

Yellow card: Qavtaradze (50), Tevdoradze (66), Komakhidze (80), Arveladze (88)
Referee: I. Kvirikashvili
more news