Loco has lost third place and chance to Euro trip with Dila Gori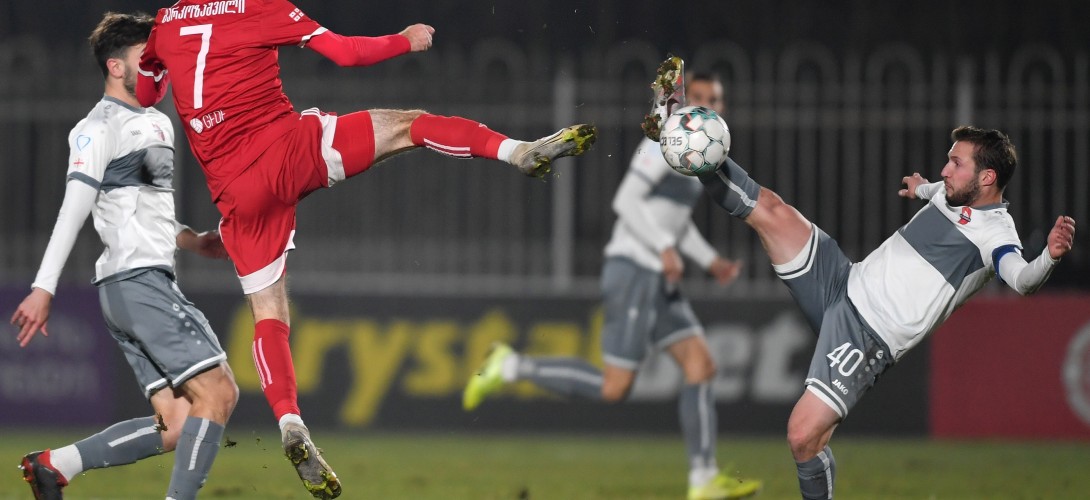 10/12/2020
Loco has lost third place and chance to Euro trip with Dila Gori
In the decisive match of the current season of Crystalbet Erovnuli Liga, Locomotive hosted Gori Dila. The fate of the bronze medalist of the championship and the trip to the European tournament was decided in this match.
Due to the Coronavirus, Giorgi Chiabrishvili's team lacked many key players. The match started at a high pace. Locomotive players combined well and tried to get close to the opponent's penalty with short passes. Naturally, due to the importance of the match, there was a lot of tension on the pitch. In the first 20 minutes, the visitors had two very dangerous moments and one of them ended with a goal. At the 18th minute, after a corner, Maisashvili took the door of Sherozia with a header.
After the missed goal, Locomotive did not go on the attack. It was clear that Chiabrishvili's team was following the plan. At the 34th minute, Imran hit the goal of Gori. However, Loco's legionnaire's technical shot proved to be weak and the goalkeeper has caught it easily.
In the last minute of the half, Shonia kicked hard from the penalty line, however, inaccurately. In the extra minutes, Locomotive made a small attack on the opponent's goal and if not Luka Gugeshashvili, the score would have been equalized in the first half. Tbilisians lost the half with a minimal difference.
First part of the second half was quite unlucky for Locomotive. Sandro Gureshidze received the second yellow card for playing with his hand in the penalty area and left the field early. The penalty kick in Sherozia's goal was used by Mykola Kovtaliuk.
Locomotive left with 10 men attacked the opponent's goal with great force and this was resulted on the 61st minute, when Irakli Sikharulidze reduced the difference of the score and left his team a chance to save the game.
The picture did not change until the last minutes of the match. Locomotive was attacking selflessly. Dila tried to play a counterattack. Unfortunately, Tbilisians did not have the strength or time to save the match, keep the Euro trip and finish the championship in the third place.
The season for Locomotive ended with 29 points, in 4th place in the tournament table.
Locomotive 1:2 Dila Gori (0:1)
Locomotive: Sherozia, Kapanadze (Kveladze 56), Gureshidze, Andronikashvili, Ubilava (C), Dzebniauri, Shonia, T. Kirkitadze (Kobakhidze 87), Imran, Gavashelishvili (Shekiladze 83), Sikharulidze
Goal: Sikharulidze (61)
Warning: Gureshidze
Expulsion: Gureshidze
Head coach - Giorgi Chiabrishvili
more news