98 minutes and the next stage of the Europa League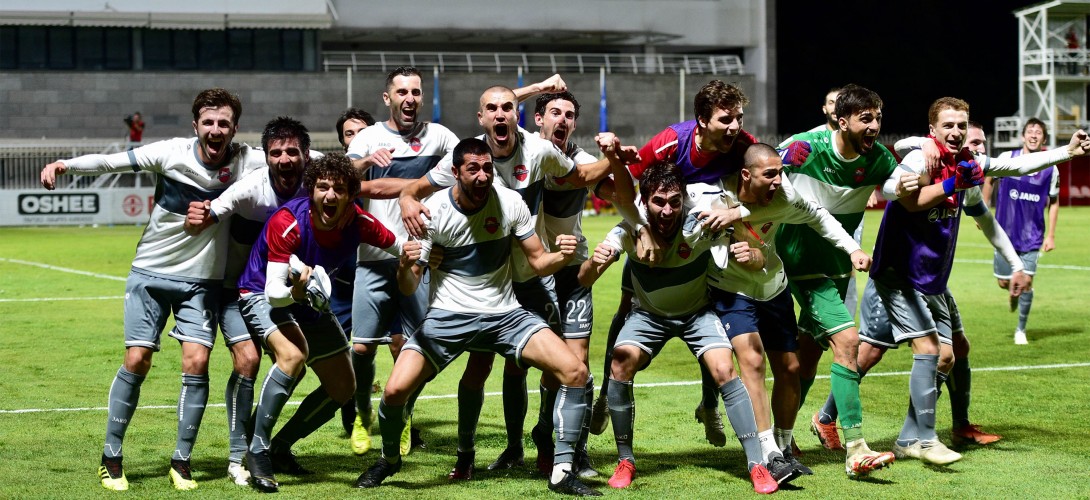 27/08/2020
98 minutes and the next stage of the Europa League
After a long pause, Tbilisi Locomotive returned to the European race. This important fact for the club was celebrated with a victory.
According to UEFA regulations, the game on Mikheil Meskhi II was held only with several spectators who shared the victory of the team coached by Giorgi Chiabrishvili only with media members.
The game started at a fast pace. The Romanian team caught the ball in the opening minutes and tried to take the lead through fast wings. Giorgi Chiabrishvili's team was concentrating on defending and trying to catch the opponent on the counterattack. In about 15 minutes, Locomotive sorted out the game. Slowly the offensive potential of the team was revealed and soon, Temur Shonia fired a shot at the Romanian goal, which was slightly missed from above. This was followed by an organized seizure in the center and a quick, thoughtful attack that ended with a very dangerous shot by Dato Samurkasov.
By the 30th minute, Chiabrishvili's team had accumulated a number of dangerous moments. Imran Oulad Omar twice made the visitors goalkeeper nervous. However, in a decisive shot, our attackers betrayed accuracy. On the other side Loco's young goalkeeper Mamardashvili looked calm and convincing. Despite the score, Locomotive left a wonderful impression and it can be boldly said that club of Tbilisi almost completely annulled the status of the opponent's favorite in the first half.
Giorgi Chiabrishvili's team received well-deserved applause because of selfless fight.
Locomotive started the second half calmly. The team was trying to maintain control of the ball and gain advantage, which was clearly coming out better. In the 57th minute, a quick and thoughtful attack ended with Loco's first goal. Samurkasov sent the ball to Tornike Kirkitadze in the penalty area; The 22nd number of Tbilisi found Irakli Sikharulidze there, whose shot was not managed by Craiova's goalkeeper - 1: 0.
Locomotive increased the advantage in the 62nd minute. Beka Dartsmelia left Oulad Omar face to face with the goalkeeper with an unusual pass. The Moroccan took a short break and led his team even further with an accurate, low shot.
The Romanians had no way back and went on the offensive with the whole team. The locomotive was once saved by a pole. At the 77th minute, Nika Sandokhadze was injured during a selfless game and was taken directly to the clinic from the field. An experienced central defender has been diagnosed with concussion and will need to rest for a short time.
The referee added 7 minutes of regular time, during which time the Romanian team was able to score one ball. The locomotive withstood the pressure of the opponent. Our team caught the ball and did not allow Craiova to do more until the final whistle.
2: 1 and Locomotive moved to the second qualifying round of the Europa League.
Locomotive 2:1 Universitatea Craiova (0: 0)
Locomotive: Mamardashvili, Gureshidze, Sandokhadze (Andronikashvili 77), Gabadze, Ubilava (C), Shonia, Dartsmelia, Samurkasov (Chanturia 79), T. Kirkitadze, Imran Oulad Omar (Dzebniauri 69), Sikharulidze
Head coach - Giorgi Chiabrishvili
Universitatea Craiova : Pigliacelli, Vatajelu, Acka, Constantin, Bancu (C), Nistor (Baiaram 77), Mateiu (Screciu 57), Cicaldau, Barbut (Mihaila 60), Koljic, Ivan
Head coach - Cristiano Bergodi
Goals: Sikharulidze (57), Imran Oulad Omar (62), Bayaram (90 + 4)
Warning: Ubilava, Vatajelu, Koljic, Acka, Constantin, Screciu
Referee – Milos Djorjdic (Serbia)
more news