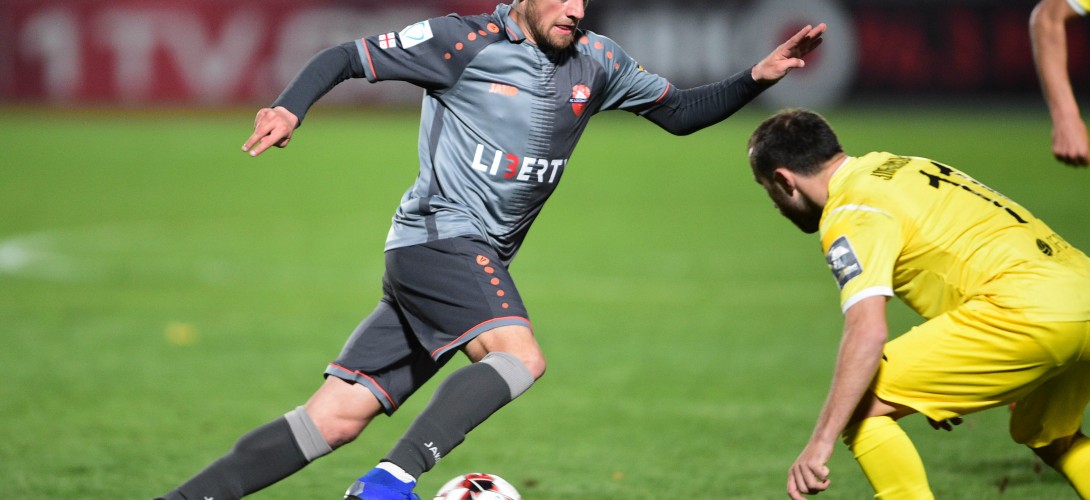 12/04/2019
Bolnisi beats Locomotive
In the 8th round of Crystalbet Erovnuli Liga of Georgia, Locomotive hosted Sioni Bolnisi. The clash ended in favor of the guest team 2:1.

The hosts showed an energetic game at the beginning, trying to create some dangerous moments at the rival's door. At the 9th minute, Locomotive missed the guests' strike, Jaba Ugulava came face to face with the goalkeeper, Demetre Buliskeria played foul with the striker of Bolnisi, so the referee signalled a penalty kick. The 11 meter shot was accurately performed by Ugulava. After the goal, Locomotive had attempts to restore the balance. They created some moments as well, however their shots lacked accuracy. At the 26th minute Levan Korghalidze made a forced substitution, injured Davit Samurkasovi was substituted by Lasha Gvalia. During the first half, Sioni maintained defensive tactic, expecting for the counter strikes. After this kind of counter strike Vili Isiani could have scored the second goal, however, he did not manage to aim the target from a favorable position. The first half ended 0:1.

The overall image of the match did not reaqlly change in the second half. Locomotive still possessed the ball, carried out some positional strikes. Otar Kobakhidze kicked for several times, unfortunately, his shots were inaccurate. At the 70th minute, Sioni started another counter attack, as a result of this, Ugulava was left alone with the keeper again, thus performing double in the match. Korghalidze called for both strikes, Davit Jiqia and Shota Shekiladze to bounce back. For the latter it was the first official match in the current season. Shekiladze took a successful participation in the match, aggravated Loco's strikes and stayed active on the right wing. He started an attack was followed by Temur Shonia's accurate shot from the vicinity of the penalty area 1:2

Locomotive did not have enough time to equalize the score, so the hosts were defeated again,occupying the 8th position with 6 points.

more news