Huge Victory - Locomotive is in the next stage of the Europa League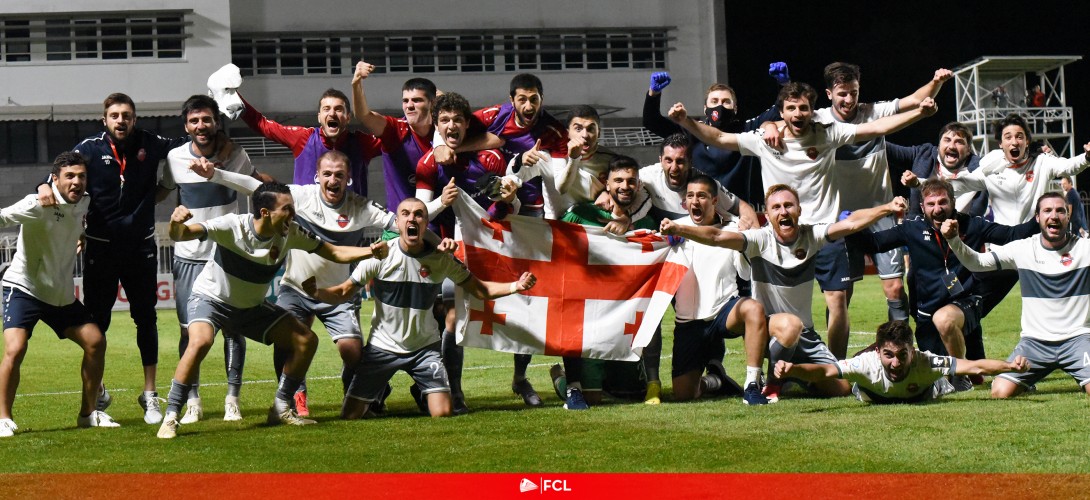 17/09/2020
Huge Victory - Locomotive is in the next stage of the Europa League
On September 17, in the match of the second qualifying round of the Europa League, Tbilisi Locomotive crossed the threshold of Dynamo Moscow, and once again managed to surprise everyone and fairly advanced to the next round.
Expectations were high; the fans were waiting for a long time for the Russian-Georgian football confrontation here in Tbilisi. The team coached by Giorgi Chiabrishvili was able to make the dream come true and let go the looser guests at home.
Both teams started the match carefully. Locomotive worked hard to seize the ball and at the 5th minute, Irakli Sikharulidze sent the ball to the door near the guest's penalty.
After that, the game seemed to calm down a bit. At the 15th minute, guests had a chance to hit the door and Giorgi Mamardashvili had to repel a difficult ball.
At the 21st minute, Tornike Kirkitadze's breakthrough was stopped by Dynamo defenders with their own penalty. After Beka Dartsmelia's shot, Locomotive was able to kick two corners in a row.
At the 27th minute, the breakthrough of the Locomotive captain was followed by Imran's shot. However, Tbilisian's only legionnaire's ball was avoided by the Dynamo gate.
At the 33rd minute, a dangerous free kick was awarded near the Locomotive penalty line. Mamardashvili repulsed the strongest blow and then, the situation was calmed down by the guards.
At the end of the half, the rudeness increased. By the 40th minute, 3 players of Locomotive had received yellow cards. Overall, the first half turned out to be very interesting and spectacular.
Locomotive door was attacked by Moscovians from the beginning of the second half. In the first minutes, the ball was in the possession of the guests and they carried out positional attacks.
At the 52nd minute, Kirkitadze's breakthrough was followed by a long shot from Shonia, which Shunin caught with his hands. Kirkitadze's next activity, at the 54th minute, was followed by a goal scored by Sikharulidze in Shunin's goalpost and Chiabrishvili's team was promoted.
Mamia Gavashelishvili increased the score to two. Loco's forward appeared on the field from the 65th minute and managed to score a goal in the 76th minute. After Shonia's shot, "Gavasha" appeared with the ball badly repelled by the goalkeeper and it finished with 2:0.
In the last minutes, the Moscovians intensified the pressure more and more. At the 86th minute, Giorgi Mamardashvili was able to repel the ball; after that, the pole also helped Locomotive and the situation calmed down. At the 89th minute, after the combination of Kobakhidze-Sikharulidze, Loco bombardier could have made a double, but could not score from close range.
The Moscovians hoped to save the game at a compensated time when Arbiter awarded them a penalty kick. Mamardashvili was surpassed by Komlichenko and he scored. And that was all.

Locomotive has advanced to the next stage!
Locomotive 2:1 Dinamo Moscow (0:0)
Locomotive: Mamardashvili, Gureshidze, Sandokhadze, Gabadze, Ubilava (C), Shonia, Dartsmelia, T. Kirkitadze (Kobakhidze 80), Imran Oulad Omar (Gavashelishvili 65), Samurkasov (Dzebniauri 63), Sikharulidze
Goals: Sikharulidze (54), Gavashelishvili (76)
Yellow card: Samurkasov, Sandokhadze, Gabadze, Sikharulidze
Head coach - Giorgi Chiabrishvili
more news