Goal-scoring passes by Kirkitadzes and double by Sikharulidze in WiT Georgia's door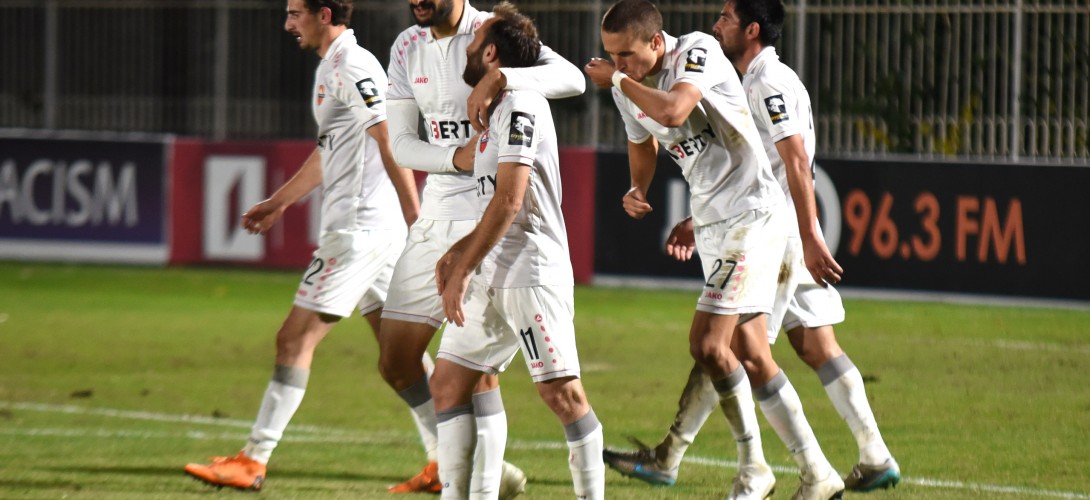 02/11/2019
Goal-scoring passes by Kirkitadzes and double by Sikharulidze in WiT Georgia's door
Thanks to Irakli Sikharulidze's double, "Locomotive" has earned 3 points, as they had planned, against "WIT Georgia" and thus have strengthened their positions while getting closer to the qualifying stage of Europa League. However, in order for the team to be officially registered for the Eurocups, they need to gain victory over their immediate runner up, "Chikhura" Sachkhere. We will be looking over it next week; For now, let's discuss the previous match.
In terms of the tournament, the teams have actively engaged in one more important match for "Locomotive". Levan Korghalidze's team had attempts to strike not only with the help of their quick wingers, but they used to do it from the centre, with positional attacks as well.
The first 20 minutes of the match ended in a way that Locomotive had not shot towards the door not even once. In response to that, the footballers of "WIT Georgia" threw the ball in the direction of Buliskeria's door several times, inaccurately, though.
The very first dangerous strike was addressed to Tornike Kirkitadze, following Samurkasovi's smart transfer, when Loco's number 22 broke into the penalty area and kicked from an acute angle. As for the keeper of WITians, he repelled it on corner.
At the 42nd minute, "Locomotive" were given a hundred per cent chance to open the score. Gureshidze successsfully played the ball passed from corner; As for the one repelled by the keeper, it was about to be netted by Kirkitadze, being left alone in front of an empty door, however, he passed it over.
In the second half, we saw our players to be more eager on the field. "WIT Georgia" could only endure the storming by Levan Korghalidze's team up to the 57th minute. As for the opening of the score, it happened in the following way: Samurkasovi kicked off the ball towards Gvalia; the latter, with his subtle and well defined passing, aimed at Tornike Kirkitadze, standing at a distant goalpost in the rival's penalty zone. He fought over the ball devotedly and threw it towards Sikharulidze, standing in front of the door. As for Loco's forward, he had no difficulty scoring on falling.
At the 77th minute, Irakli Sikharulidze succeeded to perform double. This time, Dato Kirkitadze was the one who made a goal-scoring pass.
"Locomotive" took the match to the final whistle peacefully. Before that, it worths mentioning that Luka Kikabidze had turned up on the field after a long pause. He had missed the much of the season due to his trauma and surgery. He has recently been mentioned in the team's announcement made up of 18 players.
WIT Georgia 0:2 Locomotive
Locomotive: Buliskeria, Gureshidze, Chanturia, Gabadze, Ubilava ©, Shonia, Gvalia, D. Kirkitadze, Samurkasovi (Kikabidze 85), T. Kirkitadze (Komakhidze 80), Sikharulidze (Jikia 87)
Scorings: Sikharulidze (57, 77)
more news