Loco beat Dinamo Batumi with 3 unanswered goals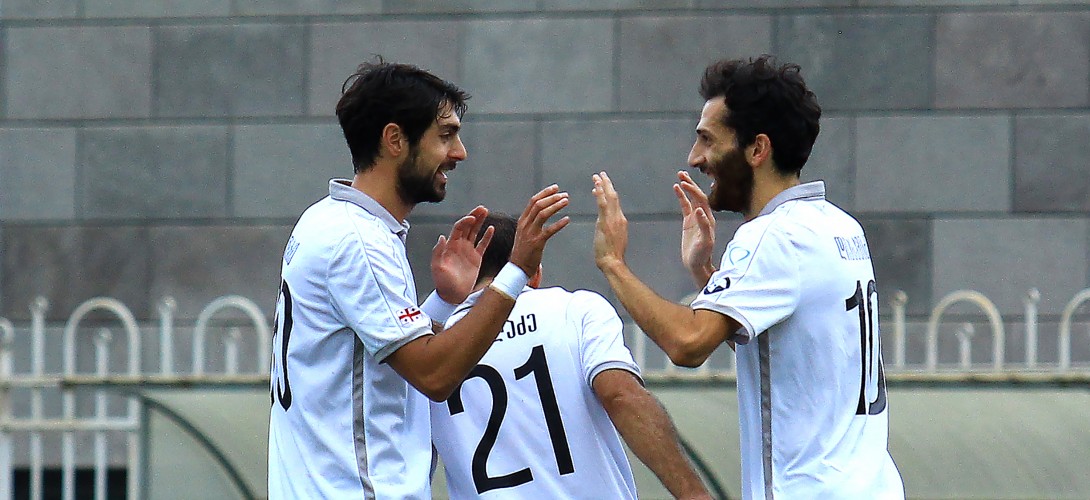 30/09/2017
Loco beat Dinamo Batumi with 3 unanswered goals
In the 28th round of Erovnuli Liga Locomotive Tbilisi gained a victory over Dinamo Batumi. On September 30, Giorgi Devdariani's team beat their opponent 3:0 at Mikheil Meskhi spare stadium.

In the clash with Dinamo, Locomotive presented itself with incomplete membership. Besides injured Irakli Komakhidze and Mamia Gavashelishvili, disqualified Vato Arveladze was not able to help his team as well. After three months long compulsory break, Giorgi Gabadze was mentioned in the announcement for the first time. 22 years old defender has not appeared on the field since he got an injury while competing with Chikhura Sachkhere on June 20.

Before starting the match, the vice-president of GFF, Aleqsandre Iashvili, awarded a special prize to the best football player of the 3rd circle of Erovnuli Liga, a forward of the team, Irakli Sikharulidze.

The score was opened by the top scorer of Erovnuli Liga as well. Sikharulidze raided the gate of the rival on the very first minute, with a wonderful ball. The forward of Loco has scored his 23rd goal after a goal-scoring pass from Giorgi Rekhviashvili.

On the 10th minute, after acting out a combination from corner, Loco succeeded in scoring the 2nd goal. The author of the successful kick became Mamuka Kobakhidze, who has managed to score his debut goal in Locomotive. Rekhviashvili was the one who made a goal-scoring pass again.

On 37th minute Dinamo's gate was raided for the 3rd time after a beautiful combination. From the left wing Giorgi Gorozia gave a good pass to Irakli Sikharulidze in the penalty area and Loco's forward let Gega Diasamidze to score, who was in the penalty area as well. It should be pointed out that Diasamidze has scored his 3rd goal during the last 4 matches.

Locomotive started the 2nd half with the forced substitution. Instead of injured Irakli Sikharulidze, Luka Kikabidze entered the field. Giorgi Devdariani made some tactical substitutions as well during the game. Davit Samurkasov was substituted by Nika Chanturia, as for Giorgi Gorozia, he was replaced by Levan Kurdadze.

At the end of the 2nd half Nodar Qavtaradze had a chance to increase the score even more. Loco's number 8 was outclassed by a goalkeeper of the guest team as he repelled the corner kick.
As a result of 28 rounds, Loco possesses 48 points and takes the 4th position. After a team break Loco will hold the following match against Dinamo Tbilisi on October 15. Tbilisi Derby will take place at Boris Paichadze Dinamo Arena, at 20:00.

Locomotive: Tevdoradze, Ubilava (captain), Rekhviashvili, Kobakhidze, Ghonghadze, Samurkasov (Chanturia62), Gvalia, Diasamidze, Gorozia (L. Kurdadze 69), Kavtaradze, Sikharulidze (Kikabidze 46)
Head Coach: Giorgi Devdariani

Yellow Card: Kobakhidze (82)
Referee: J. Khorava
more news