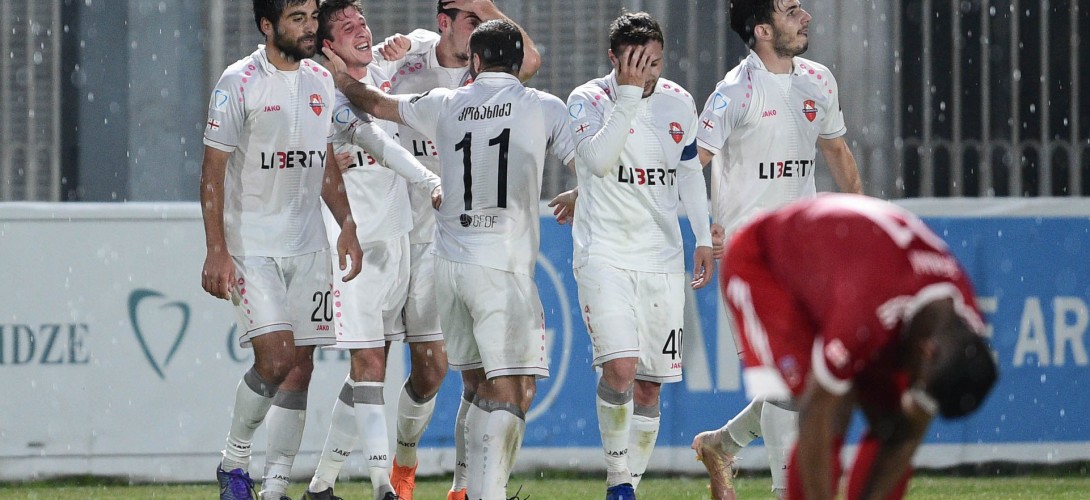 19/05/2019
Three more points gained
In the 14th round of Crystalbet Erovnuli Liga, "Locomotive" triumphed their second consecutive victory. This time, the team, trained by Levan Korghalidze, defeated "Dila" Gori with a minimal score – 1:0.
It is a matter of fact that, lately, "Locomotive" is quite motivated, they are fast and play with full concentration, which, in its turn, is revealed in the results; The 6 points gained in the last two matches is the confirmation of the fact.
The only winning goal against Dila Gori was scored by Davit Samurkasovi at the 41st minute. The young midfielder seems to be the most productive one among his teammates in the last two matches.
At the end of the first half it started to rain heavily, so in the second half the teams had to come out on a heavy ground, which affected significantly on the quality and pace of the match. However, in spite of the rain the show continued and we witnessed a merciless fight till the last minute of the match. "Dila" has a few attempts to score and if the defender of "Loco's" door –Demetre Buliskeria had not been so dashing nobody knows what would be the result shown on the board.
After the final whistle of the referee, the players from Tbilisi celebrated their deserved victory. After 14 rounds, "Locomotive" possess15 points and occupies the 8th position in the tournament list. As for Dila Gori, they are left with 17 points and is only one step higher than team of Tbilisi.
Our team will hold the following match on May 23, at Mikheil Meskhi spare stadium again, competing with "WIT Georgia"
Locomotive 1:0 Dila
Locomotive: Buliskeria, Gureshidze, Chanturia, Samurkasovi (Gvalia 74), Shonia, Kobakhidze, Komakhidze, Sikharulidze (Injgia 85) (Shekiladze 90), Dzebniauri, Kirkitadze, Ubilava ©
Head Coach: Levan Korghalidze
Scoring: Samurkasovi (41)


more news