Locomotive being the guest team gains victory over Dinamo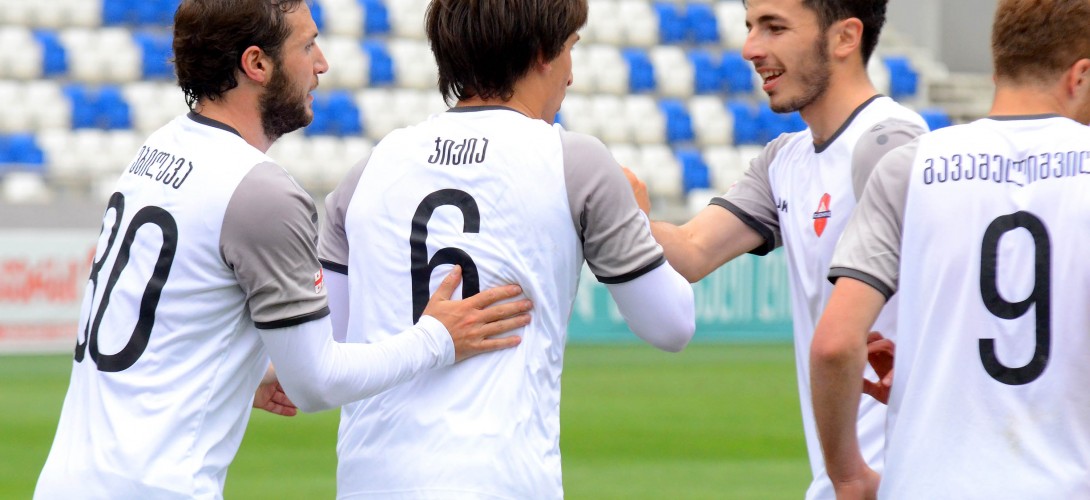 13/05/2018
Locomotive being the guest team gains victory over Dinamo
Locomotive Tbilisi defeated Dinamo Tbilisi. Tbilisi Derby, which took place at Dinamo Arena, was won by Lasha Chaghiashvili's team with a minimal score.


The only goal was scored by Davit Jikia at the 29th minute, after receiving a pass from Otar Kobakhidze.


Locomotive had carried out a few changes before opposing to Dinamo. Luka Sherozia was present in the main membership for the first time. 20 years old goalkeeper substituted injured, Revaz Tevdoradze.


Sherozia had his debut match in Locomotive in 2015. He played in the second half of the match against Merani Martvili, substituting Lazare Kupatadze, who had been sent off.


Davit Jikia also performed himself in the main membership, taking the place of Roman Chanturia.


The first dangerous moment was created by Loco. At the 11th minute, after the shot by Tornike Dzebniauri, the ball hit the crossbar. At the 17th minute, the host team could have opened the score. Budu Zivzivadze's header was turned by Sherozia to a corner.


Mamia Gavashelishvili also missed his chance to score. He cheated two footballers and kicked from the penalty line, however, the shot was inaccurate.


The score was opened at the 29th minute. In the centre of the field, the host team lost control over the ball. Otar Kobakhidze played accurately and cheated one footballer, then he left Jikia face to face with the goalkeeper and finally, he, in his turn, scored his first goal in the current season.


In the debut of the second half, Jikia had a chance to perform double in the match. At the 27th minute, his distant shot hit the post.


After that, Dinamo Tbilisi gained the preference. The host team created several dangerous moments, although, in the decisive phase, they tended to play inaccurately.


At the 61st minute, Davit Jikia was substituted by Vato Arveladze. Soon After, Lasha Chaghiashvili called for Revaz Injgia on the field, instead of Otar Kobakhidze. 17 years old forward, played a debut match with Loco's T-shirt.


It worths mentioning that he had showed himself in the 10th tour of U19 League against Gagra, on May 12th, and had succeeded in performing double.


Instead of Samurkasovi, Lasha Gvalia was also given the chance to play in the match. He started playing the position of the midfielder.


In the current season, Locomotove gained their second victory. In the following match, Locomotive is going to compete with Torpedo Kutaisi at their own stadium. The clash will take place on May 20th, at 16:30, at Mikheil Meskhi spare stadium.


Locomotove: Sherozia, Ubilava ©, Lobzhanidze, N. Chanturia, Gabadze, Dzebniauri, Shonia, Samurkasovi (Gvalia 72), Kobakhidze (Injgia 79), Gavashelishvili, Jikia (Arveladze 61)
Head Coach: Lasha Chaghiashvili

Yellow Card: Dzebniauri (35), Injgia(79)
Referee: G. Kruashvili
more news