Loco finished the championship with a victory over Dinamo Batumi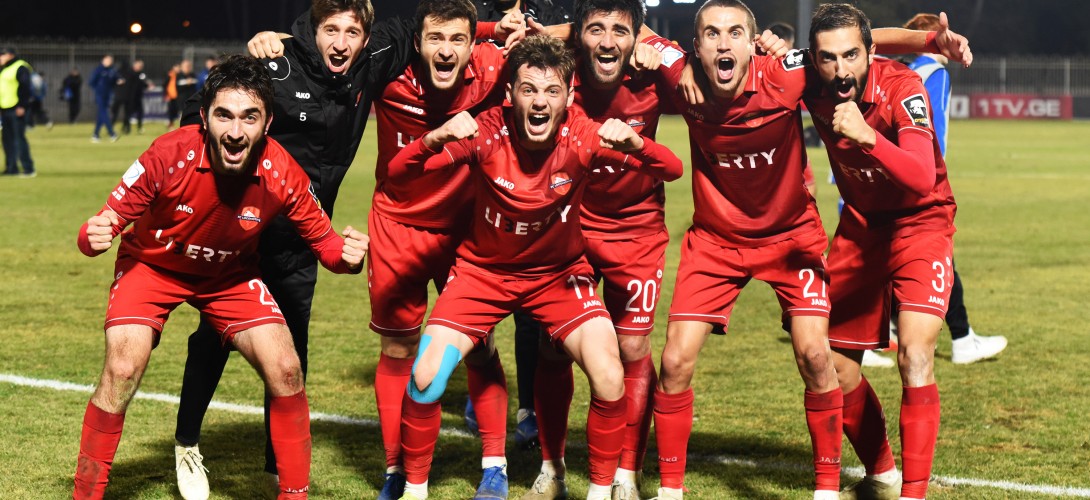 01/12/2019
Loco finished the championship with a victory over Dinamo Batumi
"Locomotive" have finished the season of Erovnuli Liga 2019 on a wonderful mood. Levan Korghalidze's team gained an unquestionable victory over "Dinamo" Batumi with the help of Irakli Sikharulidze's double.
Logically, the guest team of this match must have been more motivated than the hosts, but, it happened on the contrary. "Locomotive" struck fiercely and dangerously, created moments; As for the Batumians, they just were just stuck to cautious play. Despite the fact that the first half ended without any scorings, the overall game came to be quite entertaining.
In the second half, the scenario of the match did not really change. "Locomotive" played more hardily and attacked freely. At the 52nd round, one of those attacks ended up with a well-played combination and a goal. Luka Kikabidze outclassed 3 defenders momentarily at the vicinity of the rivals' penalty area and passed the ball to Sikharulidze being nearby, who then gave a strong and low shot to Alavidze.
At the end of the half, the Batumians became more active and had a few attempts to net. In response to that, "Locomotive" carried out some threatening counter-attacks. Although, at the 3rd additional minute of the match, the guests still managed to equalize the score, but, the game was not finished yet. "Locomotive" came on a counter-attack; Lasha Gvalia rolled the ball towards Rezi Injgia on his way; The defender of the guests played foul with the latter and thus the referee signaled a penalty kick without any hesitation. Irakli Sikharulidze took an absolute advantage of this fact. Eventually, this was followed by the final whistle of the referee and Levan Korghalidze's team earned their well-deserved victory.
"Locomotive" have gathered 55 points and finished the championship with the 4th place at the league table. Currently, the team is going to prepare for the final chord – The Georgian Cup final.

Locomotive 2:1 Dinamo Batumi
Locomotive: Buliskeria, Gureshidze, Chanturia ©, Gabadze, Komakhidze, Shonia, Dartsmelia, Samurkasovi (Gvalia 56), T. Kirkitadze (Gorozia 71), Kikabidze (Injgia 66), Sikharulidze
Scorings: Sikharulidze (52, 90+5 pen.)
Head Coach – Levan Korghalidze

more news